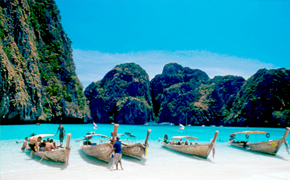 You can check the venue in the link : www.jlbangkok.com/en-gb We aim to provide our teachers with the best possible accommodations. As we deal with various schools at various locations at different times, it is impossible to have accommodations pre-arranged for all sites all the year round. Therefore, exact information regarding specifics on accommodations may not be available until a later date. Exact information for some schools/cities may be available earlier than others.
Accommodations in Thailand and throughout SE Asia are generally smaller and have fewer amenities than do Western style accommodations. Most of the schools we work with are in smaller or more remote areas of Thailand and thus do not have accommodations that are up to Western standards. *If you require (cannot live without) Western style amenities (A/C, fridge, TV, DVD, kitchen, washing machine, etc.), you will most likely not be happy working with us. However majority of the accommodations in the past have had A/C*.
Laundry is easily and inexpensively done by many local ladies (300 - 500 baht/month) or at small coin-operated shops. There are internet cafes everywhere and are usually very cheap. Restaurants and street vendors are everywhere and usually very inexpensive. TV's and DVD players can be purchased for a reasonable price, but there are many other things to do in Thailand other than watch TV and movies.
Accommodations that are arranged by the schools will be provided free of charge throughout the teaching contract. Teachers accepting arranged accommodations must agree to remain in arranged accommodations or may be liable to be charged the security deposit which the school will incur as a result.
Most arranged accommodations will be apartments with en suite bathrooms. Some accommodations for some schools/cities will be shared houses with separate bedrooms for each teacher.
Accommodations will vary from school to school and city to city. All accommodations are scouted and chosen based on location of the school, amenities provided, cleanliness, comfort, and budget. Some accommodations are provided and/or arranged by the individual schools.
All accommodations will include basic amenities such as a bed, fan (if no A/C), dresser, and closet or a clothes rack.
Some accommodations may include extras such as A/C, fridge, TV, table, balcony (most apartments have balconies), etc.

Accommodations do not include kitchens or cooking utensils as most apartments in Thailand do not have kitchens.

Monthly electric, water, and phone bills will be the responsibility of the teacher. Average water bills per month are 50-150 baht. Landline phones generally cost 5 baht/minute. Electricity is generally between 5-7 baht per unit which equates to anywhere between 500-2500 baht/month depending on the use of A/C and/or fan, fridge, lights and other electrical equipment.

All accommodation needs a deposit for 1-2 months which is refundable after teacher leave the place. Some schools cover this deposit and deduct the same from the salary while others may ask the teacher to pay for this. This deposit varies from 8000 THB to 15000 THB for 1 to 2 months. Please come prepared.
You can check the venue in the link : www.jlbangkok.com/en-gb If you wish to pursue a TEFL course in Bangkok , you will get a number of advantages. The tropical land, Bangkok is famous for its pristine beauty and traditional culture. You will get a lifetime opportunity to experience this heavenly beauty as TEFL course Thailand offers a three week free accommodation here. In addition to this you can check in one day before the TEFL program starts, so that you can take a little time to settle down in a complete new place. However, the best part is you get the privilege to stay at the most renowned hotels of Thailand, located only few minutes away from the amazing beaches.